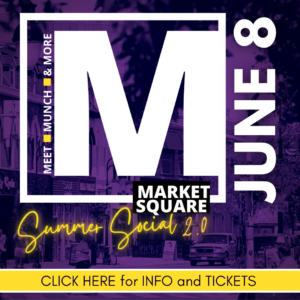 Bringing in Summer a Little Early
Pathstone's Market Square Summer Social Event Returns, raising funds for Welland site.
Niagara Region, ON [May, 2, 2022] Market Square Summer Social, the in-person event Pathstone Foundation introduced last year, returns this June. All funds raised will support their newest site River House, located in Welland.
"We are turning up the fun a little early this year moving it to June, the place where our former Hope Award Gala once was. This event gives guests an open air feel in the heart of downtown St. Catharines." Kim Rossi, Director of Philanthropy & PR, Pathstone Foundation
"The event is much bigger this year. We have grown from 11 food and drink vendors last year, to 18 this year. What remains the same is the love for all things local, and that includes businesses and Pathstone."
"This year, funds raised will be designated to Pathstone's newest site. River House, located in Welland is currently in renovation mode, but will open its doors to Pathstone clients and their families by the end of the year. We are in the middle of a $750K campaign that will support renovation costs and staffing. Hiring more therapists is the only we will be able to bring down the wait list that was created through the pandemic."
A little more about the event.
Market Square Summer Social (MSSS) takes the best parts of an outdoor market experience, and social event and puts it together under one 'open-air" venue in downtown St. Catharines. This year, you will not need a reservation time, simply purchase your tickets online and arrive when it suits you best between 5:30-7:00pm. MSSS will close at 10pm. That night you will experience some of the best Niagara has to offer with 18 food and drink experiences, live DJ and live Art creation, with a 50/50 draw too.
About Pathstone: In year two of the pandemic, Pathstone was again seeing an increase in cases. We inched closer to the 10,000 cases seen mark and are currently sitting with a wait list of 502. This 35 percent increase over the past two years makes it glaring clear that kids are struggling and that support has never been needed more.
To find out more about MSSS, to book your tickets and of course see who our generous sponsors and vendors are, visit https://shop.pathstonefoundation.ca
Market Square Summer Social
Wednesday, June 8th, from 5:30pm – 10:00pm
Let's Celebrate our Sponsors:
BELL Canada
Brock University, Bosh-Rexroth, Miller DKI, TB Landscaping
FirstOntario, Cogeco, Beatties, Mentholatum, RBC
Move 105.7 FM, AAEH Security, Haskell Photography
Here is who will be there!

Johnny Rocco's Pizza Wagon, Wellington Court, Eh-Jose, Bolete, The District Tapas+Bar, 335 on the ridge, Red Ganache, Green Apple, Comfort Café Catering, Itty Bitty Pie Co., Dunk Cookie Co., Henry of Pelham Winery, Ravine Vineyard Estate Winery, Bench Brewing, Chateau des Charmes, Brunch Beverages, Wandering Spirits Coffee, Collab Wine & Beverage.
 About Pathstone Mental Health
Pathstone Mental Health is a community-based organization whose mission it is to provide innovative and effective treatment for all children in Niagara struggling with mental health issues. Thanks to support from our donors and volunteers, we are able to help meet the needs of more kids and families. We are a lead agency for the province of Ontario as well as the primary provider of children's mental health services in Niagara. Crisis & Support is offered 24/7 and is just a phone call away: 1-800-263-4944.
For Media Inquiries / Contact:
Kim Rossi- Director of Philanthropy & PR e. krossi@pathstone.ca  o. 905.688.6850 x 167